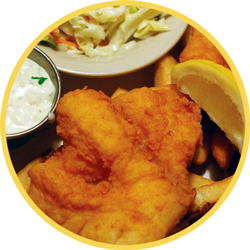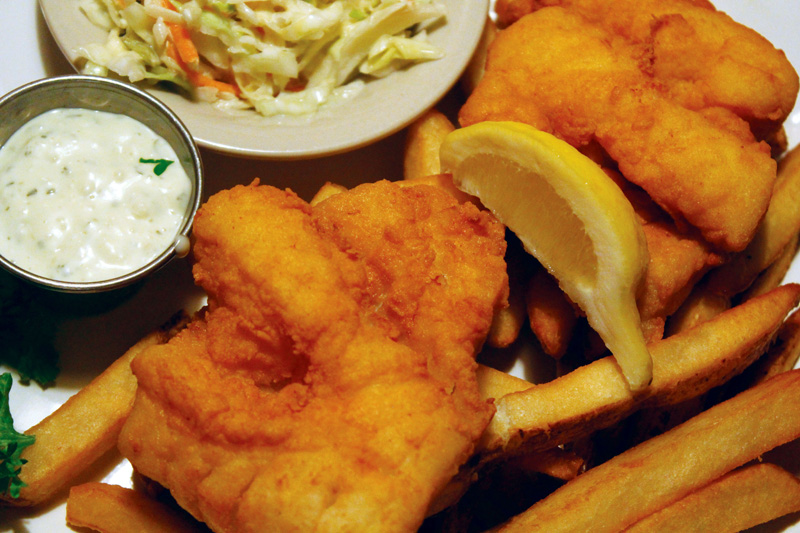 Fish & Chips
Lightly battered fresh haddock fried to a golden brown
..............15.99


Sesame Salmon Tips
A half-pound of fresh salmon tips baked with a sweet Asian sesame seed glaze
..............15.99


New England Fried Shrimp
A heaping portion of golden fried shrimp and tartar sauce for dipping
..............14.99


Baked Haddock
Baked with seasoned crumbs
..............16.99


Fried Clam Strips
Fresh Clam Strips lightly breaded and deep fried
..............13.49
Balsamic Salmon
A fresh Atlantic salmon filet lightly seasoned, baked and finished with a balsamic glaze
..............16.99


Baked Seafood Trio
Fresh SEA scallops, haddock and large shrimp baked in a lobster bisque with seasoned crumbs
..............21.99


Haddock Nantucket
Fresh haddock baked with spinach, mushrooms, Swiss cheese, seasoned crumbs and butter
..............17.99


*Shrimp Scampi
Large shrimp tossed with garlic herb butter, angel hair pasta, sliced black olives and diced tomato. Served with garlic artisan bread
..............14.99


Colossal Fisherman's Platter
Fresh SEA scallops, haddock, large shrimp and clam strips all lightly breaded and deep fried served with our crispy onion rings
..............24.99


*Shrimp Mac & Cheese
Large shrimp tossed in a creamy macaroni & cheese and baked with seasoned crumbs
..............14.99
How would you like it cooked?
Rare - Cool, Red Center • Medium Rare - Warm, Red Center
Medium -Warm, Pink Center • Medium Well - Hot, Slightly Pink Center
Well-Done - Hot, Fully Cooked, No Pink
---
Bourbon Marinated Beef Tips*
A generous portion of our bourbon marinated Choice Angus beef tips, flame broiled, brushed with a sesame glaze
Full Size..............16.99
King Size (18 oz) available..............add 4.99
Jon's Bleu Sirloin
An 8 ounce sirloin, seasoned, flame broiled and topped with sautéed onions and crumbled bleu cheese
..............14.99
Add fried shrimp or our crunchy boneless chicken tenderloins for 4.99 more!
Meatloaf
Our homemade meatloaf baked with a ketchup glaze, laced with beef gravy
..............14.99
Smoked St. Louis Ribs
Slow roasted, fall off the bone St. Louis style ribs served with our French fries, fresh coleslaw and homemade corn bread
..............18.99


NEW! Ribs & Chicken Tenderloins
Fall off the bone St Louis pork ribs paired with our crunchy boneless chicken tenderloins. Served with honey mustard for dipping
..............18.99
Dress it up! Make your chicken tenders extra delicious with any of our Sweet Baby Rays Sauces. Served with celery and bleu cheese for only .99!


NEW! Cowboy Rib Eye
One pound flame broiled Rib Eye Steak brushed with our chipotle BB'Q sauce and topped with onion rings. Served with potato and vegetable
..............22.99
The rib-eye is the most prized, expensive, and well-marbled cut you'll find on a cow. Cut from the rib section, it's quite fatty but is incredibly delicious. The fat content makes it a special occasion steak!
Chicken Broccoli Cavatappi
Roasted Chicken Tenderloins, Fresh broccoli florets and Cavatappi pasta tossed with our alfredo sauce and finished with fresh chipped Romano cheese. Served with Garlic Artisan bread
..............14.99


New England Roast Turkey Dinner
Fresh roasted turkey breast, laced with a rich gravy and served with Yukon Gold mashed potato, homemade stuffing, vegetable, cranberry sauce and homemade corn bread
..............14.99


Chicken Tenderloin Dinner
Fresh chicken tenders hand breaded and deep fried. Served with our French fries and fresh cole slaw
..............12.69
Dress it up! Make your chicken tenders extra delicious with any of our Sweet Baby Rays Sauces. Served with celery and bleu cheese - only .99


Chicken Parmesan
Two boneless breasts of chicken lightly breaded and deep fried, then baked to a golden brown with homemade marinara and mozzarella cheese. Served over Cavatappi pasta
..............14.99


Chicken Pot Pie
Tender chunks of chicken breast simmered in a rich gravy with peas and carrots. Served over Yukon Gold mashed potato with a fresh baked pie crust
..............12.99
Cranberry Apple Chicken Breast
Our version of an old time classic. A boneless breast of chicken baked and placed atop homemade cornbread stuffing (loaded with apples, cranberries, celery and onion). Laced with gravy and served with your choice of potato and vegetable
..............13.99


Buffalo Chicken Mac & Cheese
Deep fried Buffalo chicken tenderloins layered between our creamy Mac & Cheese topped with seasoned crumbs and baked to a golden color
..............12.99


Country Fried Chicken
Two boneless breasts of chicken lightly breaded and deep fried. Laced with a delicious country gravy with mashed potatoes, vegetable, homemade corn bread and cranberry sauce
..............14.99


Cor Don Bleu Chicken
Our version of an Old Time classic! A boneless breast of chicken topped with Swiss cheese, Black Forest Ham and Japanese Panko Crumbs baked to a golden brown and laced with Queso cheese sauce. Served with your choice of potato and vegetable
..............13.99


BBQ Turkey Tips
One pound of our house marinated turkey tenderloin tips, flame broiled and served with potato, vegetable and homemade corn bread
..............15.99
---
All side dishes are 3.29 unless otherwise specified.
Baked Potato (after 4pm) • Yukon Gold Mashed Potatoes • French Fries • Rice
Seasonal Vegetables • Coleslaw • Homemade Corn Bread • Garlic Artisan Bread
Load your mashed or baked potato with cheese & bacon - .99¢