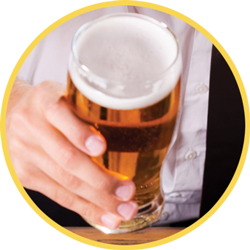 Brian's Lemonade
Citron Vodka, Watermelon Pucker, Orange and Cranberry Juice


Red Berry Spritzer
New Amsterdam Red Berry Vodka, White Zinfandel, Lime Juice and Sierra Mist


Kristine's Irish Lad
Jameson Irish Whiskey, Irish Mist, Triple Sec with a Splash of Sour Mix


Pumpkin Russian
Crop Organic Spiced Pumpkin Vodka, Kahlua and Milk
Jon's Dirty Pear
Malibu Coconut Rum, Apple Pucker, Pineapple and Cranberry Juice finished with Myers' Dark Rum


Ultimate June Bug
Midori Melon Liqueur, Malibu Coconut Rum, Banana Liqueur and Pineapple Juice


Mike Ryan's Margarita
Lime and Oranges, Silver Tequila, Patron Citronge, Sour Mix


Red Berry Cosmo
New Amsterdam Red Berry Vodka, Triple Sec, and a splash of Cranberry Juice and Lime


Bob's Tiramisu
Kailua, Creme de Cocoa, Brady's Irish Cream, Vanilla Vodka and Three Olives Espresso Vodka


Jarvis Special
Malibu Coconut Rum, Alizé Bleu and Pineapple Juice


Ruby Red
Deep Eddy Ruby Red Vodka (gluten free), Grapefruit and Cranberry Juice


French Toast
Cinnamon Whiskey, Butterscotch Schnapps, Brady's Irish Cream and cream


Lemon Drop
Lemon, sour mix, Citron Vodka and Deep Eddy Lemon Vodka
---
Ask your server about our constantly changing craft beers. We offer 16 varieties on tap and even more in the bottle!
Black and Boo
Half Pumpkin Beer and half Guinness
Red Velvet
Half Angry Orchard Cider and half Guinness
Starborough Sauvignon Blanc
Marlborough, New Zealand- Crisp and refreshing, characterized by ripe tropical fruit accents and some herbal notes. The wine shows flavors of passion fruit, kiwi and guava over a citrus background.


DaVinci Pinot Grigio
Da Vinci Pinot Grigio has a brilliant light straw color and delicate floral aromas. On the palate, it opens with flavors of apple, tropical fruit and citrus, followed by a touch of mineralogy and a lively acidity.


Blufeld Riesling
"Crisp and refreshing, blüfeld has aromas of citrus, peach and floral notes. Flinty fresh fruit flavors with a juicy mid-palate, balanced acidity and sweet, lingering finish." ~Winery Notes


Kendall Jackson Chardonnay
"Beautifully integrated tropical flavors such as pineapple, mango, and papaya with citrus notes that explode in your mouth. These flavors delicately intertwine with aromas of vanilla and honey to create depth and balance throughout. A hint of toasted oak and butter rounds out the long, lingering finish." - Randy Ulloa, Winemaster


Berringer White Zinfandel
California- Fresh and delicious with berry-like fruit flavors and aromas of citrus and honeydew. Enjoyable with a wide variety of foods, it pairs especially well with today's spicy cuisine.
Robert Mondavi Pinot Noir
A dry, medium-bodied, juicy red wine with cranberry, raspberry, rose petal and black tea.


Blackstone Merlot
California- Rich blackberry, plum, and raspberry flavors with hints of vanilla and toasted French bread. Pairs well with grilled steaks and baked salmon. Smooth, balanced, and perfect for any occasion.


Alamos Malbec
Mendoza, Argentina- The nose offers bright black cherry aromas with light floral notes and a touch of toast. The mouthfeel is full and rich, with ripe, concentrated cassis and black raspberry fruit flavors interwoven with a touch of chocolate and sweet spice from light oak aging.


Apothic Red Blend
A bold blend of primarily Zinfandel, Syrah, Merlot and Cabernet Sauvignon, Apothic Red leaves a lasting impression of flavor and texture on the palate.


Robert Mondavi Cabernet Sauvignon
A powerful wine with spicy blackberry and blueberry fruit, cinnamon, sage, coriander and tobacco flavors. Elegantly structured with fresh acidity and fine tannins.